And this gospel of the kingdom will be preached in all the world as a witness to all the nations; and then shall the end come. Matthew 24:14
In Memory of Pastor Marvin A. Hicks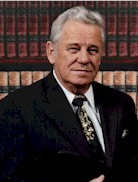 Rev. Marvin Arnold Hicks, age 85, a native of Cincinnati, Ohio and a resident of DeQuincy, Louisiana died peacefully at his residence in DeQuincy, Louisiana on December 22, 2014.
Upon graduating from high school in 1946, he enrolled in the Apostolic Bible Institute. He began his ministry while traveling for four years with his family known as the "Hicks 6" which included his parents, Allen and Leona Hicks, Allen Hicks, Joyce Hicks, Ed Hicks and himself. This opened doors for him thrusting him into full time evangelism. He preached his first revival in 1949 in West Monroe, Louisiana for Rev. E. W. Coughron, his second revival for Rev. Lonnie Johnson in Many, Louisiana and his third one in DeQuincy, Louisiana for Rev. H. L. Bennett. He continued to evangelize for the next eight years until 1957. At that time he was elected to Pastor a church known as South Highland Pentecostal Church in Little Rock, Arkansas. In 1958 he was elected as Pastor of Calvary Tabernacle in Corpus Christi, Texas. The church had 30 members at the time he was elected and during his leadership, it grew to over 300.
During the time of his ministry he preached over 70 camp meetings, numerous General Conferences for United Pentecostal Church International and 7 city wide crusades. In addition, he participated in numerous debates between those of the Oneness position and Trinitarian position in their understanding of the Godhead. After leaving Calvary Tabernacle in 1994, he moved to Bloomington, Indiana and worked with student ministries at the Indiana University. In 1995 he received the call to come to Calvary Pentecostal Church, in Ragley, Louisiana where he served as Pastor until 2013. Part of his ministry while at Calvary Pentecostal Church included "Sunday Night Live" which is an internet ministry that continues to reach 87 nations around the world.
He was the son of the late Allen W. Hicks, Sr. And the late Leona Duncan Hicks.
He is survived by his son, Marvin "Randy" Hicks of Corpus Christi, Texas; one brother, Ed Hicks and wife, Gloria of Corpus Christi, Texas and one sister, Joyce Armstrong and husband, James of Corpus Christi, Texas.
He was preceded in death by his parents, Allen W. Hicks, Sr. And Leona Duncan Hicks and one brother, Allen Hicks.
Family will receive friends on Sunday, December 28, 2014 from 4:00 P.M. to 10:00 P.M. at Eastwood Pentecostal Church, Lake Charles, Louisiana. Visitation will resume at 9:00 A.M. until 11:00 A.M. on Monday, December 29, 2014 with the funeral services beginning at 11 A.M. at Eastwood Pentecostal Church with Rev. Robert Caveness, Rev. Anthony Mangun and Rev. Steve Fender officiating . Interment will be at DeQuincy Memorial Park, DeQuincy, La.