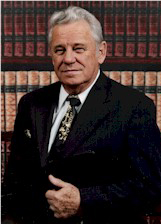 In the fall of 1895 Charles Hicks married Mary Raisor in Greenup County, Kentucky.  One of their sons was Allen W. Hicks.
December 26, 1899, in Henderson County, Kentucky, Samuel Duncan wed Mary Wylie.  One of their daughters was named Leona.
In the 1920's, both A. W., as he was called, and Leona moved from Kentucky to Cincinnati, Ohio to work.  Although they came from the same area of Kentucky, they had never met or heard of one another before.
One day A. W. decided to treat himself to a milk shake at the local drug store. The girl behind the soda counter was Leona. This was the beginning of a romance that lasted many years. During those years they were married, had 4 children, and discovered the wonderful plan of salvation God established in the Book of Acts.  God called Bro. A. W. into the ministry.  He preached across the country and was pastor of several churches. Their four children were Allen, Jr., Marvin, Joyce, and Ed.  They all sang and played instruments. For a period of time in the 1940's the family traveled as an evangelistic group know as "The Hicks Six".
Marvin, a little boy about 5 years old loved preaching so much he would prop up sticks in the backyard and preach to them.  He was heard to say many years later that was his best congregation – they gave him no trouble at all.
About 10 years later, on Easter Sunday, March 30, 1945, now a young man, he stepped to the pulpit in his father's church in Panama City, Florida, read Ps. 32:7 and announced the title of his sermon "Thou Art My Hiding Place". Thus began the anointed ministry of Rev. Marvin A. Hicks. He attended Apostolic Bible Institute in St. Paul, MN and has spent all the years since in full time ministry. He has proclaimed God's Word with a distinct anointing from coast to coast and border to border in the United States as well as in 17 nations around the world. He has preached in city wide crusades, camp meetings, conferences and served 60 years as a pastor. He served as district presbyter in Texas for 18 years and was a founding trustee of Texas Bible College.  For 30 years, he ministered on radio and for 6 years, he ministered 4 times each week on television. Of course, no one can forget over 100 public theological debates that have been recorded and are still being used for teaching today. Some are available on the Internet. Speaking of the Internet, Pastor Hicks ministered to the world on his internet broadcast "SUNDAY NIGHT LIVE!" for 11 years; 2001- 2012.
Bro. Hicks has been referred to in various books written about the Pentecostal movement. Some of the volumes were by Pentecostal authors and some were not, but all agreed that Bro. Marvin Hicks has placed a special stamp on Pentecostal ministry.
The last church Bro. Hicks pastored was Calvary Pentecostal Church in DeQuincy, La. where his congregation honored and esteemed him greatly for being a true shepherd. He loved and cared for each member in a special way.
December 31, 2012, Bro. Hicks retired as pastor of Calvary Pentecostal Church, on the recommendation of his doctors.  However, he has not retired from his calling to the ministry. Now in his 80's, he is still anointed, still on fire for God and still getting messages from heaven's throne room.  He just has to slow down and lighten his load of responsibility a little. He is still touching hearts and lives of people with his anointed preaching as guest minister in churches that cherish his ministry, knowledge, and wisdom. Ministers and Pastors love to invite him to join them in Bible discussions for the same reasons. He has reactivated his "Marvin Hicks Evangelistic Association" that was set aside when he began to pastor.
As his secretary, he will call me and say, "I've got this sermon burning in my spirit and this is the title. I need you to design a cover for the CD." Then he'll say, "Let me tell you a little about what I'm planning to preach".  As he speaks, tears sometimes fill my eyes for I can feel The Holy Spirit in the hallowed words as they flow from his heart over the phone. Sometimes I laugh at the joy of that holy exuberance that still burns within him. As was with the prophet, Jeremiah, it is like fire shut up in his bones. That "Anointed Purpose" in his life that began to tug at his very being when he was a small boy has not waned but has matured as he matured and it grows ever richer with each passing year.
Oh, it has not all been on the mountaintop with sunshine every day. A few years ago, he wrote, "I have had sad days, dark days and tumultuous times, but today I do not see one single cloud in my sky! My friends have been loyal and sympathetic, loving and kind! I can honestly say that after all the contests and controversies in which I have been involved, there is not a being on earth that I would not willingly and even gladly shake their hand! It's a wonderful feeling to have forgiven every wrong and to love our enemies as we face the sunset of life!
Life is great because God is great. It seems to me the mind remains young and visions of future spiritual victories are always present, although the physical body ages and becomes tired.  Never before have I felt such inspiration, anointing and spiritual power as I proclaim the gospel."
He continued writing, "So, if in deed, life is a voyage and our ship comes into the harbor of New Jerusalem where we will behold heaven's towers and mansions; when we hear our loved ones call our names, we'll leave the "Old Ship of Zion". Our rough voyaging of the seas will be ended forever and time shall be no more."
God saw fit to let Pastor Hicks have more years since that statement as a voice of hope to this lost and dying world and an inspiration to all! After all, God only made one Bro. Marvin Hicks and the world was blessed because of it!
Bro. Hicks had one son, Randall Hicks, a Case Manager for a major law firm in of Corpus Christi, Texas.
Rev. Marvin Arnold Hicks, age 85, a native of Cincinnati, Ohio and a resident of DeQuincy, Louisiana died peacefully at his residence in DeQuincy, Louisiana on December 22, 2014.
Betty Sarver
Bro. Hicks' Secretary